Presenting The Information You Need...
Notebook Computer Guide*
Quick... Reviews... Summary...

Become An Educated Buyer & Save
*Toshiba Qosmio F15
Desktop Replacement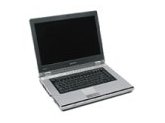 Overall Assessment/Reviews ...Very Good to Raving
It's very appropriate that the meaning of Qosmio is "My Personal Universe" - for the Toshiba Qosmio F15 incorporates a laptop, TV, DVD player, personal video recorder, and gaming notebook - all in one 8.6 pound package.
This Universe is powered by a high-end Pentium M 745 (1.8GHz) processor coupled with 512MB of PC2700 DDR memory and displayed on a 15.4" wide screen LCD. A 17-inch screen is optional.
This Toshiba notebook computer has a 80GB hard drive plus a Nvidia's GeForce FX Go 5700 graphics chip with 128MB of dedicated video memory - round out this system - providing good 3D applications such as gaming.
One major aspect of the Qosmio you should know about - unlike other multimedia notebooks you have the ability to watch TV, CDs, DVDs without launching the operating system.
The overall integrated system - TV, DVD player, video recorder, laptop - make this a very well rounded entertainment center.
Battery Life: 1.7 hours
Size: 14.7 in Width X 11.2 in Height X 1.7 in Depth
Cons: Short battery life, expensive, low native resolution.
Pros: All-in-one Universe, bright screen, excellent performance, gaming posibilities.
Conclusion: Some unique features make this 'all-in-one-universe' worth considering for those want a powerful multimedia package.
Also check out the new Toshiba Qosmio X305.
*Seclective Quality Reviews: Toshiba Qosmio F15
Use these handy Quality Review Links for more detailed information and reviews here:
*Shop Online Here For: Toshiba Qosmio F15
...Listed are some online Stores to buy the Toshiba Qosmio F15. Most of these have Daily Updated Prices so it's best to visit these sites and shop around. Watch out for Special Shopping Cart Deals! But don't go for the cheapest price - also check out the customer service and support.
Toshiba Qosmio F15 Batteries

Basic specs for Toshiba Qosmio F15-
Basic specs for Toshiba Qosmio F15-AV201

Intel Pentium M (1.8 GHz)
Hard drive 80 GB IDE
512 MB DDR SDRAM
CD/DVD DVD±RW / DVD-RAM
Input device Keyboard Touchpad
Weight 8.6 lbs
Size 14.7 in x 11.2 in x 1.7 in
Display 15.4 in TFT active matrix
Max resolution 1280 x 800
Video RAM installed128 MB
Video output AGP 8x
Audio output Sound card
56 Kbps Fax/modem AMR
Battery 1 Lithium ion
Battery life 1.7 hours
Service & support type 1 year warranty

ALWAYS DOUBLE CHECK THE EXACT SPECS -with dealer- Before you BUY!

Hopefully, this simple condensed Notebook Buying Guide will help you in the purchase of your notebook or laptop computer. At the very least, it will have pointed you in the right direction.




The Notebook Guide




Please bookmark with social media, your votes are noticed and greatly appreciated:












CLICK To View Our TOP HAND-PICKED Quality Laptops: