Presenting The Information You Need...
Notebook Computer Guide*
Quick...Reviews...Summary...

Become An Educated Buyer & Save
Rockdirect's Xtreme XT Wins 'High Performance Award'
Rockdirect's Xtreme XT wins What Laptop Magazine's Award for 'Best Performance Laptop' for 2005. Serious gamers should take note!... Xtreme XT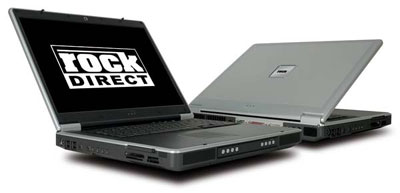 Compiled and Written by Titus Hoskins

Keep in mind, Rock is an UK company and Uses the Pound. Converts roughly One Pound = 2 US Dollars.
Xtreme XT is designed and built for serious gaming. Fitted with the high performance Corsair RAM and ATI's next-generation Mobility Radeon X800 graphics chip, it makes light work of the most graphic intensive games. PCI Express ensures maximum transfer rates, offering unrivalled speed, breaking all boundaries in gaming worlds.
The 15.4" WSXGA+ widescreen, provides high definition images bringing games to life. A smaller, lighter form factor increases mobility options without compromising on power and with the ability to double on battery life giving your 'half life' more life, and satisfying your 'need for speed'
The Xtreme XT making gaming on the go an effortless option.
Nick Boardman, Managing Director of rockdirect said: "This award reinforces our position for the first place to come when shopping for a High Performance Notebook."
In honor of the award Rockdirect is giving a FREE Pakuma Backpack (Value 50 Pounds) with a purchase of a Xtreme XT gaming laptop.
Check it out here. Don't delay. Get your order in today.
Xtreme XT
Also check out: UK Laptops

Xtreme XT Features: 
 
  Up to Intel® Pentium® 4 560 Processor 3.6GHz 
    - Featuring HyperThreading Technology 
 
  Microsoft® Windows® XP Home 
  PCI Express 256Mb ATI Mobility Radeon X800  
  Up to 120Gb Ultra DMA Hard Drive 
  Up to 2Gb High Performance Corsair DDR 400MHz RAM 
  15.4" WSXGA+ TFT Screen (1680 x 1050) 
  8x DVD DUAL Layer (-/+) Writer  
  TV Tuner (optional)  
  2nd HDD (optional, interchangeable with 7-in-1 card reader)  
  2nd Optical Drive (optional, interchangeable with 7-in-1 card reader)  
  2nd Battery (optional, interchangeable with 7-in-1 card reader)  
  FDD (optional, interchangeable with 7-in-1 card reader)  
  Integrated Wireless LAN 802.11 g/b  
  1000/100/10 BASE-T LAN 
  Built-in 1.3M Pixel Video Camera  
  V.92 56kbps Modem 
  7.1 Surround Sound Output  
  Bluetooth Module  
  7-in-1 Card reader  
  4 x USB 2.0  
  1 x IEEE1394 Firewire™ 
  DVI Port For External Monitor 
  BullGuard Antivirus 
  Roxio Creator™ 7  
  Microsoft® Works 8  
  Microsoft® Office 2003 (60 day trial)  
  Napster™ (1 Month Subscription)  
  Carry Case 
 
  3yr Collect and Return Warranty  

......................................
RockDirect is an UK company that offers a 3 year collect and return on all their custom built notebooks. They produce top-of-the-line notebooks which may appeal to gamers and those who want the best in everything. The money-is-no-object clique will definitely be interested in these high-style, high- quality notebooks.
Not too many notebooks come hand-painted! You can pick your own color.
Here are some of Rockdirect Products you should consider for personal, business or educational use. Most of RockDirect's computers are highly rated, the Rock Quaddra Ti 3.4 may appeal to those looking for 'desktop replacement' or the gamers should have a look at Rock Xtreme Ti. Those in the market for a quality 'thin & light' should consider the Pegasus. Or if you want a Tablet PC, you can try the very practical Tablet T200.
It should be noted that Rock's gaming notebooks come with the latest graphics chips but you can also upgrade the graphics processor unit when new graphics cards hit the market - thus saving you money and will give you the highest possible gaming performance for years to come.
It should also be noted, that's there's usually a new generation of 'mobile notebook technology' coming along every two years or so!
When buying your next notebook, go the custom built route if you can afford it. It might be wise to take a hard look at the Rockdirect's quality custom notebooks before you purchase anything!
........
The Notebook Guide
Please bookmark with social media, your votes are noticed and greatly appreciated:
CLICK To View Our TOP HAND-PICKED Quality Laptops: