---

       Is Your Site Ready For RSS?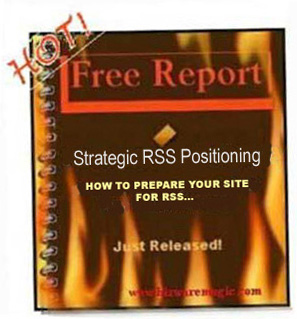 ****BWMagic's Special Report&Guide on Strategic RSS Positioning!****

                     
                               This Simple Report Shows How to Prepare Your Site For RSS. It Will Take 
                               You 'Step by Step' Through the Process of Optimizing and Enhancing 
                               Your Site With RSS. Make your Site RSS User-Friendly by downloading this 
                               Simple RSS Guide. Follow These Simple Directions and You Will Discover How 
                               the Power of RSS and Blogging Can Put Your Site In The Picture!   All For Free!

                               RSS is HOT - Microsoft has just announced the Next Windows will have RSS. 
                               Google has put out XML powered Sitemaps and Google Blog Search. RSS is 
                               marketing's next big wave! Along with this Free Report comes a subscription to 
                               WBMagic's RSS Ezine. BWMagic's RSS Articles have appeared on such sites as... 
                               addme.com, devshed.com, sitepronews.com, wwwcoder.com, thetechzone.com,
                               bonafidereviews.com and many more. 

                               Keep up to date on RSS - Get RSS News, Views, Tools with this 
                               handy subscription!

                               BizwareMagic.com Home
 
Your details will be respected! Your e-mail will
not be sold or rented to any third party.

Find out how you can Build Your List by Placing this simple link on all your Web Pages.

© Copyright - 2004 All Rights Reserved.