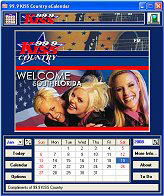 Desktop calendars and planners are quickly becoming a necessity for the ordinary computer user. Mainly because they are so convenient and easy to use.
The Desktop eCalendar has to be one of the top applications designed for the computer. Always there when you turn on your computer and the first thing you check in the morning before you start your day.
Most of these eCalendars come with a personal planner or organizer that you can use to keep track of all your dates, appointments and those hard to remember anniversaries. Your important information is stored on these devices so there's no need to update your special events in your life or your family's life each year - your trusty eCalendar will save all this information for you.
One of the easiest and simplest desktop calendars is produced by DTES (Down To Earth Software), an Ottawa based software company run by Tony Walton.
The eCalendar is called DATEwise.
The first feature of the DATEwise desktop Calendar that you will immediately notice is its simplicity. This is one of the easiest calendar systems that you will ever find - easy to download and install and very easy to use.
However, don't let this simplicity fool you. This little device can store all your information and keep it for you even if the system is updated. No need to enter all your important events each year - they will just be stored in your trusty DATEwise eCalendar and you can access them from year to year. Some users have information stored since 1997 when the calendar and organizer was first introduced.
This Desktop Calendar is perpetual - it will last forever!
Because it's a computer software program, the DATEwise calendar has been programmed to last a lifetime. It keeps all your life's important events neatly stored for easy access, making this simple device all the more powerful.
What's probably not widely known is how effective these eCalendars are as a marketing tool.
Many marketers have long recognized the importance of the computer desktop as prime marketing location for any online venture. These perpetual eCalendars can be branded with your company's logo, your company's sales message, and perhaps most important - your company's contact information. All this promotional material can be displayed on the computer desktop of your patrons or future customers.
Moreover, it contains
LIVE LINKS
to your web site, company, or email contact links, in essence producing a direct line of communication with your customers. 24/7 - 365 days of the year.
For any business online and especially for those offline businesses that don't have a web presence, such a calendar with your company's contact information and logo can virtually bring your company into the computer age. Overnight.
These simple yet convenient calendars and planners can be used by companies in many ways:
as complementary gifts
as promotional material to brand your company or product
as lead generation and sales
as the perfect marketing tool for online and offline ventures
But it's a two way street; customers or patrons receive many benefits:
they receive a perpetual desktop calendar and personal planner (Retail Value $30)
they can keep daily, weekly, monthly or annual records and plans...
they can keep track of family events, birthdays, anniversaries...
they also get a direct line, connection to your company, sitting on their desktops 24/7 365 days...
The Desktop Calendar is a handy interactive program that will keep your business constantly in front of your customers and potential customers. It can be a great promotional tool that will reap rewards for years to come.
Groups, clubs, companies, artists, - just about anyone with a product or web site can use these types of promotional calendars to bring in targeted traffic, build leads and improve your name or brand recognition. It can also be used to expand your company's Internet presence. At last count, this was a 'Billion Plus Users' club that can't be ignored by any business, online or off.
Getting just a very small percentage of this 'Billion Plus Club' can have a favorable impact on your business, product or web site. [Click here to find out more on how Desktop Calendars can be used as Promotional Calendars]
Regardless of the purpose or how the desktop calendar is used by promoters or companies - it will always remain a simple calendar and personal planner that will be greatly appreciated by the ordinary computer user.
The desktop calendar is one little cool device whose time has come!
Please bookmark with social media, your votes are noticed and greatly appreciated:
---
We respect your privacy. the DATEwise eCalendar contains no "spyware" whatsoever;
no information is transmitted to or from the program, nor is a "cookie" placed on your system.
.............................................................................................................

A note from DTES Inc., producers of the DATEwise eCalendar & Personal Planner:
Downloading material from our site is perfectly safe.
We have been delivering our products by this method since 1996.
However, if security is still a concern, you may contact us by clicking here.